Sohaib Athar, a 33-year old IT consultant in Abbottabad, unknowingly witnessed the United States' seizure of Osama Bin Laden on Sunday. At around midnight in Pakistan, as the operation was taking place, Sohaib tweeted about how strange it was that a helicopter was hovering Abbottabad at that time of the night. The noise and rumbling were very annoying to him. Little did he know, he was in the presence of one of the most important American achievements of the decade. What he was observing was U.S Navy seals trying to capture Bin Laden from the compound he was hiding in, located in the same city Sohaib was in at the time.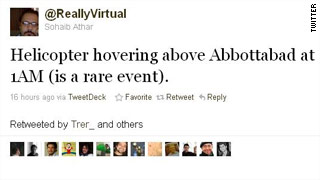 After much more ruckus, Athar began to realize there was something substantial going on.
"I hope it's not the start of something nasty" He tweeted, after windows started to shake. About eight hours after Sohaib's first tweet, he tweeted again, acknowledging that he had heard what had really happened. By early Monday morning, the online messages and media requests began, as his tweets were being discovered.
"Uh oh," he wrote, "Now I'm the guy who liveblogged the Osama raid without knowing it."